Beit Simcha Ministry House celebration, January 28, RSVP!
January 28 @ 3:00 PM

-

7:00 PM

$10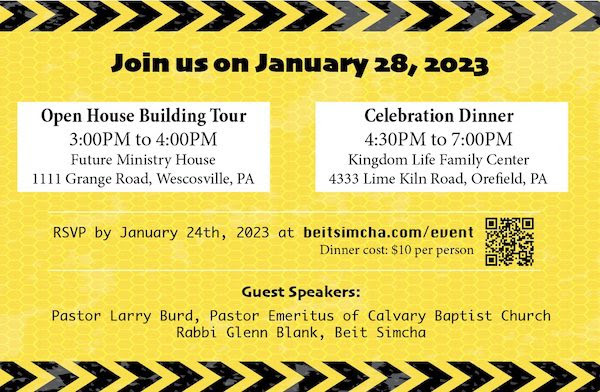 Join us for a special celebration, on January 28, starting with a guided tour of
the Ministry House building (another opportunity for inscribing Scriptures),
followed by a dinner at Kingdom Life Family Center with Pastor Larry Burd encouraging us to "Enjoy the Ride of Faith," testimonies from the builders,
praise and worship, and an enjoyable dinner. RSVP now and invite others!
Check out a cool new video about the start of construction
of the Beit Simcha Ministry House.
Tim, John and others are hard at work! They sure could use a helping hand or two finishing the work. Volunteers and other paid workers welcome!
Contact Tim Basehore at carpentershandiwork@copper.net
or 717-943-3057 (text/call)
Free good firewood! Get some, soon, before the excavator takes it away.
Bring your chainsaw to 1111 Grange Road, Wescosville, PA, both near the front and towards the back to the left (north) side of the site. Check out our progress, too!